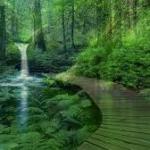 Dr. Giblin's counseling practice serves clients from all communities in and around Eugene Oregon. Clients describe Dr. Giblin as insightful, engaging, skillful about making all family members feel heard.  He is a deep thinker and an expert at strategizing. His style is engaging and personable, without being too casual OR too clinical.  Below is a brief statement from Dr. Giblin discussing his approach to young adult counseling. 
As I work with both teenagers and adults, one of my greatest joys is guiding young adults across this ambiguous divide, as they prepare for and transition into college. There is so much life and longing, deep thinking and vast expanses of emotions! There are also a multitude of challenging adjustments at this life stage, including increased academic and time management expectations (especially for those with ADD/ADHD and Learning Disabilities), as well as questioning of one's academic path and life direction. This time is a rigorous test in balancing all of the spheres of life (work, play, relationships, self-care).
In my counseling practice, I see Anxiety Disorders (Panic Disorder, OCD, Phobias, Social Anxiety, Test Anxiety, and Generalized Anxiety Disorders) become active and disruptive of both academic and social functioning.  Impulse Control Disorders (Tourette's Disorder, Tic's, Trichotillomania, internet addictions) can be fueled by all of the new stressors, sabotaging academic performance and relationship issues. Mood Disorders (unipolar and bipolar depression) are often aggravated in the high-pressure, low-support environment, when young adults are away from their home environment for the first time. Serious dating relationships, and disappointments, coupled with difficult roommates and grieving old friends far away, make for much misery.
I would relish the opportunity to help you navigate these challenges, and achieve a positive and successful transition to independence.
PS) Plus, I've been a staunch DUCK fan, even before being a duck fan was cool!
***
Our Eugene Office serves clients from all nearby communities, including Eugene, Springfield, Creswell, Cottage Grove, Veneta, Junction City, Monroe Pleasant Hill, Oakridge, Lowell, Dexter, Marcola, Coburg, Santa Clara, Elmira, and surrounding areas.
Please contact our office for counseling: (541) 738-6516.