Kimberly Price, Office Manager
The friendly voice you'll speak with when you call Giblin Consulting belongs to Kimberly Price, Office Manager. She is passionate about access to psychological counseling for individuals, children, and families.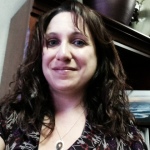 I received my Bachelor of Science in Human Development and Family Studies (with a minor in Sociology) from Oregon State University in 1996. I've been in the medical field since 1989, and passionately involved in the mental health arena since 1998.  I currently serve on the Board of Directors for Oregon Family Support Network, a non-profit agency supporting families with children struggling with mental health challenges.
I am a native Oregonian and currently live in Eugene with my husband and our three children. I enjoy yoga, hiking, snowshoeing, waterfalls, painting, artistic pursuits, family game night and National Parks/Lodges. I am especially pleased when people receive the mental health services they need/deserve, with a minimum amount of obstacles, and maximum success and support! I have a large, specially designed soapbox, from which I shout about equality between medical and mental health treatment.
It will be a great day when parents feel as little hesitation to seek services for a child with a broken spirit as they would a child with a broken leg.  I look forward to the day when there is equal lack of judgement directed at people with bipolar disorder as towards those with size 7 shoes, or green eyes!  Imagine how wonderful it will be when schools accommodate anxiety disorders amongst their students as well as they accommodate wheelchairs in the hallways, and when insurance companies interfere as little with treatment for ADHD as they do for leukemia.  My focus is upon reducing the stigma of mental and emotional illness, and encouraging society to widen the scope of our compassion…to create a better world for all of us.
***
Our Eugene Office serves clients from all nearby communities, including Eugene, Springfield, Creswell, Cottage Grove, Veneta, Junction City, Monroe Pleasant Hill, Oakridge, Lowell, Dexter, Marcola, Coburg, Santa Clara, Elmira, and surrounding areas.
Contact us: (541) 738-6516.